A year after he coached his first state championship team, Alex Bahe is back on the bench.
Bahe, who coached Elkhorn South to the 2015 Class B Boys State basketball championship, stepped down from the job and returned to Lincoln to teach at Southeast High School (his alma mater). A little more than a year later, Bahe is back as a head coach.
On Friday, Bahe was named the new boys basketball coach at Lincoln Southwest High School. He becomes the third basketball coach in school history and takes over a program that has finished last or second to last in the city standings the past three seasons.
But building up a program is nothing new to Bahe. He coached at Elkhorn High School from 2006 to 2010, leading the Antlers to a runner-up finish in the 2008 Class B tournament.
Bahe became the head coach at Elkhorn South when they opened up in 2010 and helped the Storm to an undefeated run in 2014 before losing in the semifinals of the state tournament. His 2015 team helped capture the school's first basketball title.
Alex Bahe
For Southwest, this is a good hire. He's someone that's already in the school system that has experience as a varsity coach and able to build up a basketball culture. Southwest athletic director Mark Armstrong said in a news release on Friday: "We are very excited to have Alex be apart of the Southwest coaching staff. He has demonstrated the strong ability to connect with students, both in the classroom and on the court, and has enable them to reach their fullest potential."
I couldn't agree more.
Bahe continues the family legacy of coaching and being involved in basketball. His grandfather, Al Bahe, was the longtime boys basketball coach and athletic director at Fremont. Uncle Chip Bahe has spent many years in the coaching business, including a four-year stint at Lincoln Northeast from 1998 to 2002. His brother, Nick, played college basketball at Kansas and Creighton and now serves as a sports talk show host in Omaha, while helping broadcast Creighton Bluejay games on the radio and televise Big East games on Fox Sports.
Bahe is now among a small group of young coaches in Lincoln, which could be difference makers in the next few years. David Mercer at Northeast, Jeff Campbell at East and Jason Glines at Lincoln Lutheran are already in that group.
MARK AHMANN, A TRUE BOOSTER OF HIGH SCHOOL SPORTS COVERAGE
There's a reason why longtime radio and TV sportscaster Mark Ahmann will forever be linked to high school sports coverage in Nebraska. He truly had a passion to provide publicity to young student-athletes and give them the recognition they earned.
Ahmann passed away Thursday after battling a series of health issues recently. He was 83-years-old.
You may remember him from his days at KOLN/KGIN-TV in Lincoln from 1972 to 1980, where he was sports director, called the championship games of the boys and girls state basketball tournaments and hosted the first of its kind sports overtime show "Friday Night Sports Roundup."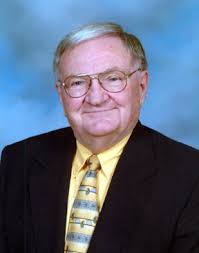 Mark Ahmann (Courtesy photo)
I suppose that's where my passion for covering high school sports began. Granted, as a two or three-year-old young boy, I wanted to stay up extra late just to see that show with my parents. It was part of my childhood even after colleague Dick Janda continued the show for another 12 years.
Mark also co-hosted the Tom Osborne Show during his time at 10/11. KETV's Joe Patrick and Lee Stevens shared time with Ahmann in hosting the show each week, then from 1975 to 1977 it was KMTV's Jim Kelter who shared the set with him before it was a 10/11 product only.
Ahmann left Lincoln in May 1980 and later became station manager at KAMI radio in Cozad, before returning to the Sioux City area to do TV once again in the mid-80s. He landed in Wayne, Nebraska and spent the rest of his life there as sports director/station owner of KTCH radio. He was the longtime voice of Wayne State College athletics.
Publicity photo for the Tom Osborne Show from 1976. Ahmann is on the right, while KMTV's Jim Kelter is on the left. (Courtesy of Nebraska Athletic Department program archives.)
For his accomplishments, Mark Ahmann was inducted into the Nebraska High School Sports Hall of Fame in 2007, then enshrined in the Nebraska Broadcasters Hall of Fame in 2012.
One thing you probably didn't know is that Ahmann called the first "Game of the Century" college football game in 1966, when he worked in Lansing, Michigan. The game was between Michigan State and Notre Dame, which ended in a 10-10 tie.
A former baseball player, Ahmann played for a minor league team in the early 1950s before an injury ended his career. He served in the Army and later enrolled in what is now Brown Institute, a Minneapolis-based broadcasting school.
The voice, who had been in broadcasting for nearly 60 years, has been silenced and leaves listeners and viewers with nothing but great memories.
Of course, we will always remember him for his signature sign off. "Have a good day the rest of this one. A good tomorrow and take care of yourself, won't you."
We certainly will, Mark.