Eddie Key III's life was taken away too fast.
The 18-year-old Lincoln North Star graduate and former all-state football player for the Navigators had just completed his first semester of college at Wayne State College and was in his second month of the second semester when he was found in his dorm room Feb. 8.
The Wayne County attorney says Key III's death was attributed to pneumonia.
Not knowing him personally, I got an idea of what type of kid he was....all-around great personality and got a long with everyone.
It certainly showed Thursday night at the North Star/Lincoln Southwest boys basketball game at the Gators' home gym, "The Swamp."
Several hundred people, including the North Star student section, wore T-shirts made up to honor Key and the legacy he left behind.
As you can see, these words are symbolic.
Smile, of course, refers to Key's infectious smile and "the gentle giant" refers to his personality.
The "Right Far Zoom, 25 Power" was Key's favorite play in football at North Star, since he was the lead blocker. Those T-shirts are $10 a shirt and can be picked up from Here's Your Sign Screen Printing and Design by calling 402-217-5212. The proceeds will help benefit the Key family.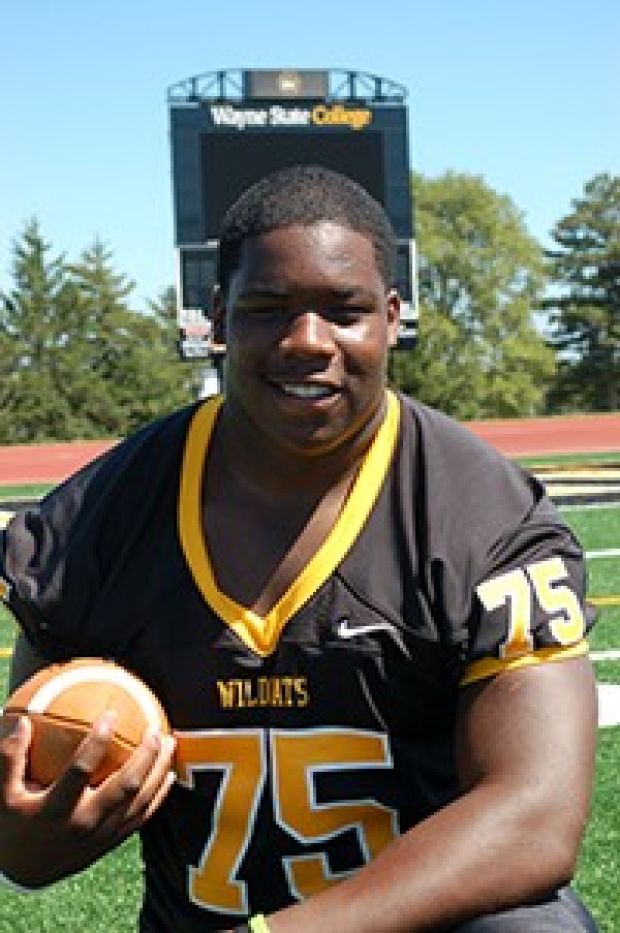 Eddie Key III (Courtesy of Wayne State College Athletics)
Just before Thursday night's boys basketball game, there was a moment of silence for Key before the national anthem. Looking around the gym, many people who knew Eddie showed their emotions as they took time to remember the "the gentle giant."
North Star's boys basketball team played with emotion, as the Gators took care of Southwest 67-47.
It was a night to grieve and celebrate the life of a young man who left us too soon.
Eddie's funeral was Saturday at St. Marks United Methodist Church, which brought out more than 1,000 of his family, friends and teammates. His coach at Wayne State, Dan McLaughlin, said Key never failed to make him or his teammates laugh.
Forever, in the hearts of those he impacted, Eddie Key III will live on in spirit.