By Jeff Motz
LincolnPrepSports.com


Football isn't the only sport that's produced a great number of Nebraskans in the National Football League.

Same can be said for Major League Baseball.

The National Basketball Association and other professional basketball leagues in the United States and around the world have been places for native Nebraskans who have achieved a certain level of stardom in the sport.

Perhaps the most accomplished of Nebraska-born players in the NBA is the late Bob Boozer.
The former Omaha Tech and Kansas State star was a gold medalist on the 1960 US Olympic basketball team, had a brief stint with the Harlem Globetrotters and spent the next ten seasons in the NBA. Boozer played for the Chicago Bulls, Los Angeles Lakers and the Milwaukee Bucks, the latter of which he helped lead to the 1971 NBA title.



Bob Boozer in 1966 for the Los Angeles Lakers (Photo courtesy of LA Times).

Fellow Tech alum and former Creighton star Bob Gibson spent a brief period of time with the Globetrotters, before becoming a Hall of Fame pitcher for the St. Louis Cardinals.

Aurora's Tom Kropp is the only player to be drafted by both the NFL and NBA. The former Kearney State standout played for the Chicago Bulls and Washington Bullets from 1975 to 1977. Kropp continues to be the head coach of the mens team at his alma mater, now known as the University of Nebraska-Kearney.

Most notably in the last 40 years, guys like Mike McGee of Omaha North and Erick Strickland of Bellevue West have been in more prominent roles for NBA teams.



Omaha native Mike McGee starred at Michigan from 1977-1981. (Photo Courtesy of Univ. of Michigan Athletics)

McGee, the only player in Class A history to average 38 points a game, had an illustrious career at Michigan before embarking on a four-season run with Magic Johnson and the Los Angeles Lakers. He was on two world title teams with the Lakers (1982 and 1985). In the final five seasons, McGee played for the Atlanta Hawks, New Jersey Nets and Phoenix Suns before playing briefly in Europe and retiring.

Strickland became one of the all time leading scorers in Nebraska mens basketball history. Undrafted, he was picked up by the Dallas Mavericks and went on to play for the New York Knicks, Vancouver Grizzles, Boston Celtics, Indiana Pacers and the Bucks in his nine-year career.

Strickland's rival in high school was Andre Woolridge at Omaha Benson. After guiding the Bunnies to the 1992 Class A title, Woolridge played one season at Nebraska before transferring to Iowa, where he became the all-time assists leader and has since been broken.

Passed up in the 1997 NBA draft, Woolridge played overseas in Turkey, France, Italy and Greece. He was invited to NBA training camps and came close to making the roster for the Denver Nuggets in 2000, but was waived before the season started.


Lincoln's only real claim to the NBA is Alex Stivrins of East. His stops at Creighton and Colorado took him to being the 75th pick overall in the 1985 NBA Draft by Seattle. Briefly, Stivrins played for the Supersonics before being waived. His professional career was mostly spent in Europe before a brief call up to the CBA's Omaha Racers in 1991 and again two years later where he helped the Racers claim the league title.





Alex Stivrins (Courtesy of NBA/Phoenix Suns)

Stivrins also spent that 1992-93 season playing in the NBA for four different teams, the Suns, Bucks, Hawks and Los Angeles Clippers. Aside from Stivrins, the only other player with Lincoln ties to play in the NBA was Fred Hoiberg. He was born in Lincoln, but moved away to Ames, Iowa as a child and eventually played at Iowa State.


Other Lincolnites have spent time playing in other professional basketball leagues without making it to the NBA. Northeast's Dana Janssen played in Spain for a couple of seasons after a remarkable career at Nebraska Wesleyan.

Another Northeast alum, Alton Mason, has made it a career of playing basketball in Europe, mostly in Belgium and Turkey. He played college ball for three seasons at Arizona State.


Alton Mason


East's Derek Sailors played in Portugal and the Topeka Sizzlers of the CBA after his college career at New Mexico State completed in 1983.
Fellow Spartans Mike Bargen and Shawn Redhage have played at the pro level elsewhere.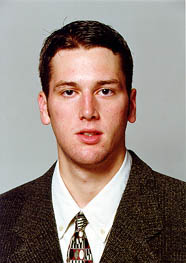 Mike Bargen (Courtesy of Marquette University)

After his career at Marquette, Bargen played in Iceland for one season in 2000-2001 and now is the head coach of the mens team at Butler County Community College in Kansas.


Redhage has become a household name in Austrailia. With dual citizenship with the U.S. and Australia, Redhage made the Australian Olympic team in 2008 that lost the U.S. team consisting of LeBron James and Carmelo Anthony. Redhage has starred in the NBL for the past nine years, most notably with the Perth Wildcats.

Shawn Redhage (Courtesy of NBL/Perth Wildcats)

Former Nebraska center and Omaha Burke star Rich King spent four seasons with Seattle in the early to mid-1990s, after being picked 14th overall by the Supersonics in the 1991 NBA draft. He finished his pro career in 1998 with the Sioux Falls Skyforcce of the CBA.



Rich King (Courtesy of NU Athletics)

Another Husker, Dave Hoppen out of Omaha Benson, had a tour of duty in the NBA. He played for the Atlanta Hawks, who selected him in the third round of the 1986 draft. Hoppen also played for Philadelphia and Charlotte and played in Europe.


Dave Hoppen (Courtesy Photo)


Schuyler's Chuck Jura spent his entire professional career in Europe, after graduating from the University of Nebraska.

Omaha Creighton Prep's Kerry Trotter, Nebraska's only McDonald's All-American, played 11 seasons in Belgium following his college career at Marquette. Trotter also had a shoe and gear contract through Nike during his time in Europe.




Kerry Trotter (Courtesy of Nebraska High School Sports Hall of Fame)


One more Lincolnite that has made the rounds of playing professionally is Andrew Drevo from Lincoln Christian.

Drevo, who was an All-State selection in 1999, played at Nebraska, helping the Huskers to a 2004 NIT appearance. Since then, he's played professionally in Germany, Spain and France. Drevo also played for the Iowa Energy in the NBA's Development League.


Andrew Drevo (Courtesy of euroleague.com)


North Platte's Joe Vogel has made himself a star playing professionally in Lebanon. The 6-11 former standout for the North Plate High Bulldogs took his inside game and had a stellar college career at Colorado State and was picked 45th overall in the 1996 NBA Draft by the Seattle Supersonics.

Vogel's stay in Seattle as brief and spent the early part of his career in Japan and Saudi Arabia before moving back to the United States for a season and playing for the Rockford Lightning of the CBA.

With dual citizenship, Vogel became a citizen of Lebanon and has become a fixture for his professional team based in Beirut. He was voted MVP of the FIBA Asia Championship in 2007.


Joe Vogel (Courtesy Photo)


Bart Kofoed of Omaha Westside put up great numbers in high school before embarking on college basketball stops at Kearney State and Hastings College. His numbers got the attention of the Utah Jazz and he was picked 107th overall in the 1987 NBA Draft.

Kofoed played for the Jazz, Boston Celtics, Seattle Supersonics and Golden State Warriors in his NBA career from 1987 to 1992. His noteworthy accomplishment came with the Omaha Racers, teaming with Alex Stivrins to help win the 1993 CBA championship. Kofoed retired in 1995.


Bart Kofoed with the Utah Jazz (Courtesy photo)

The list goes on and on of the number of high school basketball players from Nebraska who play in college and the professional level. You get the drift? Basketball has a presence in this state, even though it is highly overshadowed by football.

At least you can respect that, right?